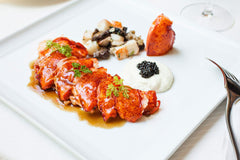 Image via Argus Guide
Bringing caviar into the mix might not be your first impulse for a cookout - unless, like superstar self-taught chef Victor Arguinzoniz, you know how to grill caviar. There are some compelling reasons why you should consider incorporating it into your next summer party. Not only is it ideal for infusing outdoor gatherings with an air of luxury, invigorating the party spirit atmosphere, and bringing an unexpected surprise to the table, but its talent for elevating the profile of even the most commonplace grilled foods cannot be understated. Caviar can bring some much-needed richness to your favorite fish, seafood, and even vegetables.
Grilled Salmon Salad in Endive Cups
Salmon is one of our favorite foods to grill— not only does an outdoor grill make it easy to perfect the delicate balance between a crispy outer skin that gives way to a just-barely-cooked interior, but it also brings an unexpectedly sophisticated element to typical outdoor gatherings. This recipe for a unique side salad improves upon grilled salmon, using it as the base for a deliciously tangy endive filling alongside sour cream, capers, and summery pickles. The star ingredient, of course, is salmon roe, which tops off each serving and elevates the entire dish. While this would be ideal as an appetizer, it could also be modified as a side dish for other grilled dishes.
Fire-Roasted Artichokes with Herb Aioli
To use the benefits of an outdoor grill to the fullest extent, try taking this recipe for fire-roasted artichokes for a spin— each artichoke gets marinated in a umami-rich mixture of balsamic vinegar, garlic, and fresh herbs before being nestled on the char-broiler of a grill. An herbed aioli with a hint of heat finishes off each individual serving, which is then sprinkled with a garnish of caviar— the perfect balance of flavors for any season, but an especially welcome treat as summer nears its end.
Grilled Lobster Tails with Green Curry-Mango Dipping Sauce
Looking for something a bit more filling? This grilled lobster tail recipe is an improvisation on a summer classic— par-cooked lobsters are skewered on the grill, then drizzled with a sweet-and-savory curry mango sauce that plays up all the exotic flavors of summer with lime juice, chiles, fresh mangoes, and ginger. The final garnish is black caviar, which not only adds another element of richness to the dish, but is also sure to impress even the most foodie-centric crowd— we suggest using Siberian Gold caviar to play up the provenance of the lobsters, and embrace the unusual marriage of these American flavors.
Whatever your next summer cookout holds, make a caviar-garnished meal the center of attention— this unexpected ingredient will lend a level of sophistication to any outdoor event, creating an exquisite evening for epicureans.