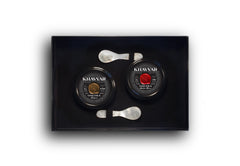 Caviar makes an ordinary gift extravagant.
Treat your friends and family to a traditional experience with caviar, the legendary food of the Czars. Follow a time-honored  tradition and offer to thrill the taste buds with the finest imported and domestic roes. While you do, you should combine this gift with traditional complements

that enhance its gustatory texture and complexity.  These compliments are necessary for caviar.
In your gourmet gift set, include a selection of Osetra caviar from Belgium and Israel for a sampling of top quality imports. Add a few domestic varieties such as Sturgeon Royal White and Siberian American for a memorable fine dining experience that indulges the senses and brings together a cheerful table of friends and family.
Along with premium farm-raised roe, include a selection of wild caught sturgeon caviar from across the U.S., which ranges from the bright colored Ikura Salmon roe from Alaska to the tiny dark olive pearls of Spoonbill American caviar from the waters of Alabama, Arkansas, & Alabama.
Inspire your loved ones to make the most of their caviar experience by including a copy of the reference book The Caviar Encyclopedia by Morgan C. Parker Jr. Give the gift of an education in haute cuisine with 112 pages that cover the basics of caviar, including its history in the world of fine dining. It also includes chapters describing each type of sturgeon species and the different harvesting techniques and preservation methods.
Caviar and its accompaniments were influenced by many different cultures, including the Chinese, who perfected the salt curing method for fish, a technique adopted by Russia and Iran. In the royal courts of Russian czars, a spoonful of caviar was served on mini pancakes made with buckwheat flour called blini. These classic pairings combined with European style crème fraîche adds a fresh and tangy finish to an indulgent bite.
For the finest Osetra and Beluga caviar experience, feel like royalty while sipping on vodka or champagne between tastings. These are traditional Russian palate cleansers.  Old World unfiltered vodkas are perfect for maintaining a balance of flavors and creating a pleasant finish. Vodka makes an ideal pairing for caviar because of it subtle flavor, which allows the distinctive notes of fish eggs to stand out. Served ice cold and neat, high quality traditional brands match the saltiness of caviar without overpowering it. 
Champagne is another excellent addition to your personalized caviar gift set because its sweet flavors meld perfectly with the mild saltiness of premium roe. The crisp and effervescent bubbles are also great palate cleansers and a less intense alternative to spirits.
The most essential item to include is a Mother of Pearl spoon set. The correct utensils are vital for maintaining the delicate flavors of caviar. Never use metal spoons since that would tarnish the flavor. Create a spectacular display by including a serving tray in the gift set, which can be used to keep the tiny pearls chilled on ice and with traditional complements served on the side.
Give your loved ones the gift of an authentic Russian experience with caviar, the rarest and most decadent food in the world.