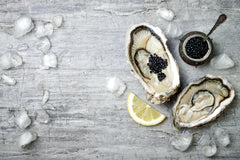 The beginning of fall doesn't just signal a shift to cooler temperatures— it's also the beginning of oyster season. Though there are countless ways to enjoy these delicious molluscs, the start of the season is a prime time to partake of the raw, chilled oysters you'll find at America's best oyster bars— whether you prefer them with a spritz of lemon or a bit of house-made cocktail sauce, you're sure to be treated to a delicious evening at these locales.
While Grand Central's oyster bar may be the most famous in the city (and remains a classic spot for channeling Mad Men vibes), the swanky Brooklyn-based Maison Premiere is an intimate alternative far too good to pass up. Paying homage to the Parisian and New Orleanian, Maison Premiere offers the city's largest Absinthe list— no small feat in Francophilic New York. The restaurant boasts 30 types of oysters, as well as seafood "plateaus" that offer an eclectic mix of shellfish— "la grande plateau" even comes with caviar.
In a town that likes to enjoy oysters year-round (a luxury afforded by the warm waters of the Gulf), it speaks volumes that New Orleanians wait patiently all summer while this time-honored institution is closed. Casamento's reopens every September at the beginning of the "season", showing off an unchanged (and rightly so) menu of centuries-old favorites. Whether you opt for raw oysters or Casamento's poached oyster stew, this iconic, intricately tiled eatery never disappoints, and is the ideal place to spend a long afternoon with a drink in hand.
Led by a Michelin-Starred chef, GT Fish & Oyster is a far more swanky affair than its straightforward name implies. Bridging the line between traditional and modern, GT's raw oysters (sourced from both coasts) are offered with cucumber cocktail sauce or ponzu mignonette— far from your average fare. The atmosphere, which is described as "fisherman's cottage-meets-yacht", neatly mimics the hybrid dishes you'll find there. Depart from the oyster menu, if you so choose, with squid-ink gnocchi or braised baby octopus to keep with the nautical theme.
An informal-yet-thoughtful vibe makes this neighborhood joint a local favorite. A rotating menu of Pacific Northwest-sourced raw oysters is served (with a handy cheat-sheet) alongside house-made sausage, fresh-baked bread, and other delightfully unassuming dishes. Looking for a different way to enjoy your oysters? "The Walrus", as it's known to locals, also offers fried oysters served with a cilantro aioli— their striking gin-cured salmon, too, is not to be missed. Enjoy it after sipping on one of the bar's enticing gin-based artisanal cocktails, like the intriguingly named, grapefruit-tinged "jewel of denial".