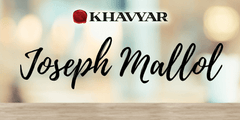 When we write about restaurants and fine dining, we make it a priority to celebrate the chef responsible for an eatery's identity: the man or woman who imbues that establishment with personality, excitement, flavor (in more ways than one) and energy; the performer with the experience and creativity necessary to strengthen the history and tradition of a beloved institution; the leader with the respect indispensable to mastering a discipline that is as arduous as it is artistic; that is as challenging as it is comforting.
One such person who embodies these virtues, and upholds these values, is Joseph Mallol, Executive Chef of Harry's Café & Steak.
His career, which reads like a gastronomic tour of international renown and domestic repute, from his formal training at the French Culinary Institute to his youthful days as a worker in his family's kitchen, from his labor in the old whaling towns of Long Island to his itinerant apprenticeships throughout the island of Manhattan, is a chef with a record of extensive study and more than a quarter-century of noteworthy achievements.
We express in words what Joseph represents, in his actions – excellence.
We salute his passion for invention based on his palette for great taste and his eye for presentation.
He symbolizes the best of his profession.