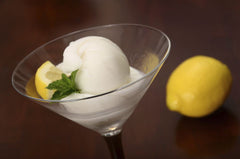 Image via The Spruce
Traditional wisdom suggests that caviar be served with very limited drink options—most often Champagne or vodka—so as not to overpower the prized flavor of the roe. But summer calls for a bit more experimentation, and with gourmet frozen drinks being a much-anticipated trademark of warmer months, a caviar tasting to match should be no exception.
To bring a frosty, summer-friendly element to your caviar pairings, use the traditional suggestions as a starting point and improvise from there. Rather than simply popping open a bottle of Champagne to enjoy alongside your Osetra, opt for a frozen variation— a frozen take on the French 75 (a truly classic cocktail made by combining Champagne and a splash of gin) or a simple lemon sorbet will add greatly to the party atmosphere.
FROZEN FRENCH 75
This recipe, created in New Orleans, can be made one of two ways— by using an ice cream maker to create a base and then topping with Champagne, or by replacing the water with ice and simply blending all the ingredients together in a blender. Either way, the finished frozen drink will impart an indulgent, celebratory air to any summer event. We recommend choosing a mild gin in order to best complement the subtleties of the caviar—  leave those gins that have an intense botanical flavor on your bar cart for next time.

Makes about 8 cocktails
Prep time: about 20 minutes, with ice-cream maker method

3 cups water
1-1/3 cups gin
5-1/2 ounces fresh lemon juice
5 ounces simple syrup, chilled
7-1/2 ounce sparkling wine or Champagne
Lemon peel

Combine water, gin, lemon juice and simple syrup (chilled ahead of time) in a pitcher. Taste and adjust sweetness as needed. Pour the mixture into an ice cream maker and process until just slushy before adding Champagne. Continue to process briefly to combine.
VODKA LEMON SORBET FLOAT
Prefer vodka with your caviar? Fans of this neutral spirit won't be disappointed when they discover the light, lemony flavor of a vodka sorbet found in this recipe. This frozen treat is a play on the way that both vodka and sorbets are traditionally used as palate-cleansers during a meal— and an adult-appropriate adaptation of a classic summer ice cream float. Simply combine sugar, water, and lemon zest over heat, then add vodka and lemon juice before freezing— again, either in an ice-cream maker, or in a freezer as you would a granita. Top it off with a splash of club soda to add some refreshing carbonation to the float that will provide a clean finish in between tastes of the most flavorful caviar varieties, such as
Makes about 5 cocktails
Prep time: about 30 minutes, with ice-cream maker method
1/2 cup premium vodka
1 1/2 cup sugar
3 cups water
Grated lemon zest
3 1/2 Tbsp freshly squeezed lemon juice
Club soda, to finish
In a saucepan over medium heat, combine sugar and water until the sugar dissolves.
Add the lemon zest and stir until mixture comes to a boil. Reduce the heat to low and let the mixture simmer for 5 minutes. Place a fine strainer over a bowl and slowly pour the syrup mixture through, being sure to strain out any zest. Add lemon juice and vodka to the strained syrup mixture, stirring until thoroughly blended. At this stage, either transfer mixture to ice cream maker, then process; or place mixture, covered, in the freezer, mixing with a fork intermittently as it freezes. When frozen, place in a blender and process until smooth. Scoop into serving dishes and top with club soda.
Whether you prefer to sample the rich, inimitable flavor of caviar with Champagne or vodka, these elegant frozen alternatives might just replace your tried-and-true caviar and drink pairings. The perfect accompaniment for summer festivities, these beverages lend a luxurious, relaxing air to outdoor dining while also showcasing the unique profiles of all varieties of fine caviar.