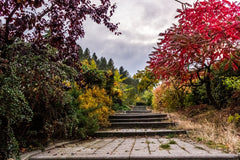 As fall comes into view, pack for a long weekend escape to see the natural wonders that this country has to offer. Whether you choose to scope out the changing leaves in a luxury cabin, or indulge in a Rockefeller-worthy lakeside stay, there's plenty to love about the autumn season.
Constructed by William Avery Rockefeller in the 1900s, this resort is an idealized vision of Upstate New York befitting the Gilded Age. The log cabin-style Main House is rustic only in concept, revealing opulent rooms each fitted with stone fireplaces and soaring beamed ceilings. Rent out the highly sought-after Boathouse for an even more exclusive experience, featuring panoramic views of the lake and mountains beyond. Enjoy the boat outings or simply relax in nature, then finish the day with an elegant meal in the Great Hall— where the tradition of "dressing for dinner" lives proudly on.
This grandiose 200-room hotel is nestled beside Mount Washington and—if you time your trip right—engulfed in fall foliage. Trade the busy ski season for the calmer days of fall, and you'll be rewarded with unparalleled natural beauty. Slip away to The Cave, a former speakeasy, for a cocktail, then retreat to your room's private veranda to take in the spectacular views at dusk or, for a truly one-of-a-kind autumn experience, get a bird's-eye view with a zipline tour.
This resort ramps up as temperatures drop, with a special autumn calendar of harvest festivities including fine farm-to-table dining, intimate concerts, and more. Outdoorsmen and creative types alike will be at home here— their diverse array of activities offers everything from horseback riding to photography classes (and with the breathtaking scenery, there'll be plenty to enjoy with both). As a special treat during the harvest season, head to Buckle Barn for an evening with Grammy award-winner Leann Rimes followed by a barn dance— a truly unique way to discover the spirit of Montana.
The Hamptons may be bustling in the summer, but this seaside escape transforms into something far more rare in the fall. Experience the Hamptons at its most unhurried for a chance to see it in a whole new light. Stay in Topping Rose House's cottage king suite for the most luxurious experience— private rooftop patios offer a look at surrounding Bridghampton as well as quaint farm views. Dining options skew toward the foodie crowd, with the Jean-Georges restaurant offering farm-to-table fare. Balance your indulgences with poolside yoga in the morning, or head out for a weekend drive with one of the resort's complimentary Audis.
Designed by the esteemed architect of the New York Public Library, this Italianate mansion is the perfect place to enjoy the changing seasons. The villa is the pinnacle of luxury, perched atop a hill with rooms featuring multiple fireplaces, terraces, and private elevators. Stroll in the manicured gardens or opt for traditional hamam bathing rituals (for one or a pair), offered in the mansion's bath house. The property's dining rooms are decorated with exquisite antiques, though the option of terrace dining may be more desirable to truly get the most out of the fall landscape (be sure to take advantage of their Belgian ossetra caviar for two!). Surrounding wineries, including
Brotherhood Winery
(the oldest in the United States), offer tours and tastings nearby in addition to supplying Glenmere with their wares.